This week on the podcast, I break apart a brand new song I recently wrote and recorded called "Moving On." This is my best attempt at making a radio friendly pop song, influenced by Justin Timberlake.
I started creating this song when I heard about an opportunity where a song placement agency was accepting song submissions for tv, film and advertisement. From the beginning, I knew I wanted to make something that was really upbeat and catchy and danceable along the lines of Justin Timberlake's song, "Can't Stop The Feeling."
I started off messing around with a few ideas on my acoustic guitar and cajon. Normally, I would finish writing a song before I start recording it but this time, I went ahead and put down some instruments in Protools without a lot of structure planned out yet.
Basically, I had a rough sketch of an "A" part and "B" part. I started with the guitar part played to a click track. I actually ended up shifting to the key down half a step to make it a little easier to sing.
Next, I used a Protools plug-in to program a very basic kick and snare drum loop. To get the drums to sound closer to a real drum set, I added some real hi-hats, along with a cymbal and tambourine.
Next came the bass guitar to give it some groove. To have it sound a little more dancey, I added a synthesizer part during the choruses. It's hard to hear this in the mix but I did a technique with compression called "side-chaining" where the kick drum triggers a decrease in volume on the synth part, giving it a throbbing sound. This is a pretty popular technique used in a lot of electronic music. You can kind of hear the same sort of thing on the piano intro of "Can't Stop the Feeling."
Next I used another type of synthesizer for the ending called an arpeggiator just so to add a different flavor and sort of take the song to another place.
I felt like the guitar by itself was a little weak so I added two acoustic guitar parts to fill it out a bit more. There's also a heavy distortion part at the end but it's pretty low in the mix.
So I had all these different parts recorded and I did a lot of cutting and pasting and swapping things around until I was ready for the lyrics.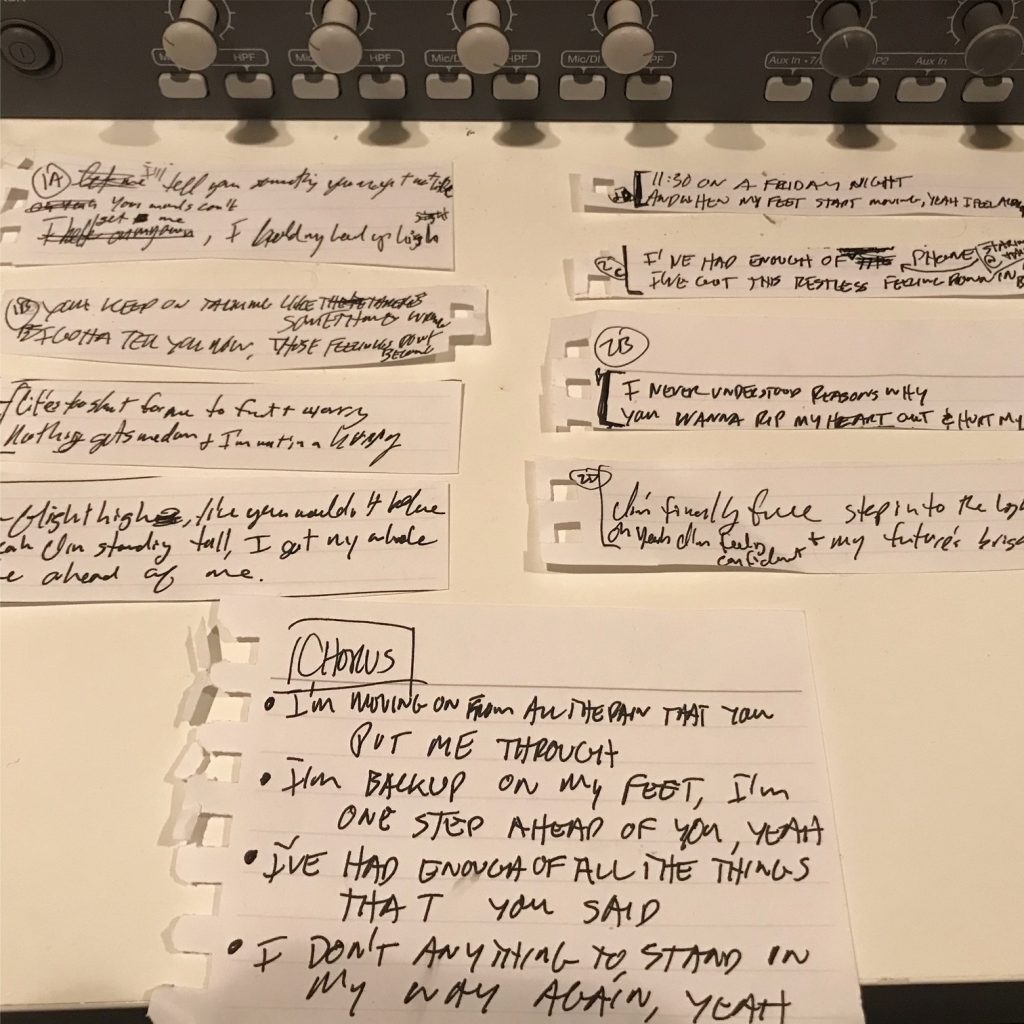 As part of the submission process, the agency I was working with provided a list of song topics they frequently get asked for. "Moving On" was one of the themes on the list so it wrote the lyrics about that topic. Originally, one of the lines I improvised was "I should have known" but with this new topic in mind, I changed it to "I'm moving on."
I thought it would be cool to have it sound like a big group singing this line so I recorded myself singing it 6 times: 3 of parts at sort of normal range and 3 of them an octave lower. Here's what it sounds like. I also took this group vocal idea and did some "whoahs" as part of the chorus hook.
To come up with lyrics, I played the my instrumental recording of the song over and over and improvised and bunch of different words on top of the beat. I wrote them all out and made some tweaks to so they fit the right number of syllables. I had a hard time figuring out which line belonged where so I cut the paper into strips so eat line was it's strip and them moved the strips into different orders until I felt like the train of thought in the lyrics made logical sense and flowed off the tongue the right way.
The lyrics talk about not letting the words or the things that other people do get to you. The line that ends the chorus says, "I won't let anything stand in my way again" and that sort of sums it up. I tried to keep the wording fairly universal so it could work as a break up song or maybe even someone leaving a job or someone fed up with something political or just generally discouraged about how their life it going. I'm hoping people can connect with the positive outlook.
I submitted the song a few days ago so fingers-crossed that it gets picked up.
Lyrics:
I'll tell you something that you might not like,
Your words can't get to me, I hold my head of height,
You keep on talking like there's something wrong,
I gotta tell you now, those feelings do belong,
Life's too short for me to fret and worry,
Nothing gets me down and I'm not in a hurry,
I'm flying higher like you wouldn't believe,
Oh yeah, I'm standing tall, I got my whole like ahead of me,
I'm moving on from all the pain that you put me through,
I'm back up on my feet I'm one step ahead of you, yeah,
I've had enough of all the things that you said,
I don't need anything to stand in my way again, yeah,
It's 7:30 on a friday night,
And when my feet start moving, yeah I feel alright,
I've had enough of staring at the phone,
I've got this restless feeling down in my bones,
I never understood the reason why,
You wanna rip my heart out and hurt my pride,
I'm finally free to step into the light,
Oh yeah, I'm feeling confident and my future's bright
I'm moving on from all the pain that you put me through,
I'm back up on my feet I'm one step ahead of you, yeah,
I've had enough of all the things that you said,
I don't need anything to stand in my way again, yeah,
I'm moving on