In this episode, I break apart a song called, "Figuring This Out." This comes from my album Starting Over released back in August of 2022.
This song meshes together a whole bunch of different influences including Vampire Weekend, Modest Mouse, Animal Collective, The Walkmen, Gorillaz, Regina Spektor, and Phil Collins. I'll dive into the specifics as we go along here.
In my head, I originally had something along the lines of a less trippy version of the Animal Collective song, Unsolved Mysteries.
So, to start with for the recording, I took a kick drum sample playing quarter notes and laid an acoustic on top of it playing eighth notes.
So this was a nice start but I felt like it was lacking some energy and grit. I started thinking about The Walkmen song "Wake Up."
I really like the way the electric guitar sits in their song, so I played a similar electric guitar part in mine and doubled it up.
Next, I worked on filling out the beat a little bit. I had something like the beat for "Float On" by Modest Mouse going on in my head.
I added hi hat, and snare samples, which occasionally do a roll sound.
The guitars alone weren't quite getting the feel I wanted. I started thinking about the Regina Specktor song, Fidelity.
I like the soft, pizzicato string plucks and the way they felt with the beat. So I created a similar sound by adding an electric piano in the mix.
At this point, I started thinking about how I could break up the different sections of the song so that it progresses to different places as it goes along. I changed the opening beat on the first verse of the song to a drum machine that sounds like this. I also added a fuzzy, synthesizer bass, which layers a few different sounds together. I tried to do something that Gorillaz would do. During the second verse, I add a glockenspiel sound to give it kind of a playful feeling. In the second half of the song, I added an echoey, high pitched guitar part for another texture.
Next I thought of the style of early Vampire Weekend. I like the way they are able to incorporate baroque classical instruments with their brand of indie rock music.
So I borrowed this approach for something similar in my song. First there's the harpsichord and then a string section at the end.
To close it out, I wanted to throw in a fun drum fill at the end and the first thing I thought of was Phil Collins' famous drum solo from "In The Air Tonight," which sounds like this.
So I used this as a reference and programmed a similar drum fill.
For my vocals, I added distortion, reverb and delay effects. It sounded a little like the sound quality of an answering machine to me and since the first line mentions an answering machine, I created a "beep" sound to really drive the message home (no pun intended).
In the chorus production, I went back to Modest Mouse for inspiration. I like the way they have several different voices singing the song together on Float On. I layered on about 5 different voices of my own.
Lyrically, this song is about relationships and the feeling of fear and insecurity that can sometimes creep in.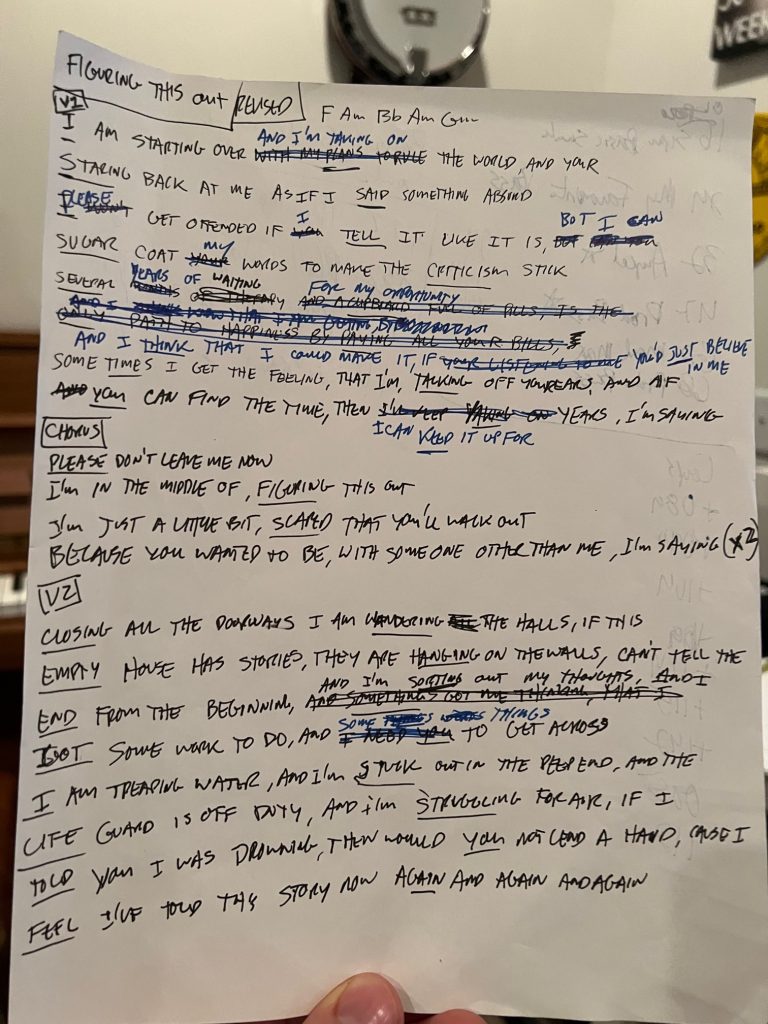 Back to the Phil Collins song, "In The Air Tonight," there's a very bitter line where he says "if you told me you were drowning, I would not lend a hand." So in my song, I reference that line but flip it and say "If I told you I was drowning, then would you not lend a hand?" So that part of the song is about the difficulty of really speaking your mind and asking for help when you need it.
And with that, here's the complete song. I hope you like it.
Also, This song is available to license for your projects like podcasts and videos. Find it at archesaudio.com or click the link in the description. Use the promo code "songoftheweek" at checkout to get 50% off your purchase of this song until February 12th.
Also, for listeners of this podcast, Arches Audio is offering 10% off your purchase of the other songs in the music library, as well as any services, including audio editing, artwork, and a new course on podcasting. Visit archesaudio.com and use promo code "makingmusic" at checkout.